In previous articles we tested disk performance and CPU of Vultr, Linode and DigitalOcean. We will see network speed of each competitor.
Network Performance
network speed of your virtual private server depends on many things like hosting company's actual network capacity, and transit providers, BGP peering etc. your noisy neighbors can affect network speed you're assigned to.
usually, we use cachefly to download a test file and see how fast your server's download speed can be. Cachefly has its CDN all around the globe.
wget -O /dev/null http://cachefly.cachefly.net/100mb.test
DigitalOcean offers 10 GbE for each droplet, Vultr has 10 GbE in most datacenters. Linode now upgraded its network to 1GbE out.
We get results below:
| network speed | Vultr | Linode | DigitalOcean |
| --- | --- | --- | --- |
| Cachefly | 227MB/s | 220MB/s | 197MB/s |
For users located in Asia, I suggest datacenters in Japan, Singapore which are provided by Vultr, Linode and DigitalOcean. for European and American users, Amsterdam, Frankfurt, Fremont, Los Angeles are all good choices.
datacenter
Vultr(started 2014)
Linode(started 2003)
Digitalocean(started 2011)
America
Atlanta, Chicago,
silicon valley, Dallas,
Los Angeles, New York, Seattle, Miami
Fremont, Dallas,
Atlanta, Newark
New York,
SanFrancisco, Toronto(Canada)
Europe
London, Amsterdam, Paris, Frankfurt
London, Frankfurt
London, Frankfurt, Amsterdam
Asia
Tokyo, Singapore
Tokyo, Singapore, Mumbai(India)
Singapore, Bangalore(India)
Others
Sydney(Australia)
Network speed varies from different locations and different ISP. BestTrace is a tiny tool which can help you to see exactly the route map between you and your vps. with BestTrace, It's easy to decide which server location is best for you.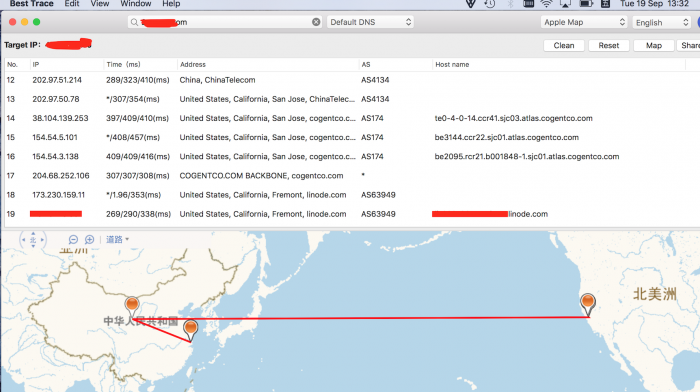 We're surprised to see that Vultr grows so fast and its vps plan has higher price ratio than Linode or DigitalOcean. Vultr is a young vps brand with insanely fast SSD and network speed. Price is as low as $2.5/month with 512 MB RAM 500GB bandwidth and 20GB SSD. Vultr lags behind with its simple backup feature and API not documented so well.
Linode still provides robust service with reasonable price and high network speed. Linode upgraded its billing method to add both credit card and Paypal payment. I love Linode's Clone feature but feel uncomfortable with its customized Kernel version. You need more time to tweak your vps.
DigitalOcean is mediocre in comparison with its competitors. Creating a droplet on Digitalocean is super fast and easy. it need to update pricing to give users more vps resources. digitalocean doesn't have many datacenter locations to choose from.